He is so calm he sometimes drives even his own colleagues crazy, one close confidant says.
And yet 74-year-old Kemal Kilicdaroglu – pronounced Kilitch-daro-lu – has the biggest chance so far of unseating Turkey's most powerful man, Recep Tayyip Erdogan, since he took power 20 years ago.
A soft-spoken former civil servant, he is the very antithesis of Turkey's grandstanding, powerful president.
He has lost several elections since he took charge of the Republican People's Party (CHP) in 2010, when his predecessor was forced out because of an extra-marital affair.
Perhaps not the obvious candidate, then, for six opposition parties uniting behind a single person to challenge Mr Erdogan.
And yet Kemal Kilicdaroglu is a highly experienced politician. He was elected in 2002, the same year Mr Erdogan's ruling AK Party came to power. He has survived a string of violent attacks, earning the reputation of being one of Turkey's most-targeted politicians.
In his 13 years as leader, he has broadened his party's appeal and "embraced all the different colours in the country", as he puts it.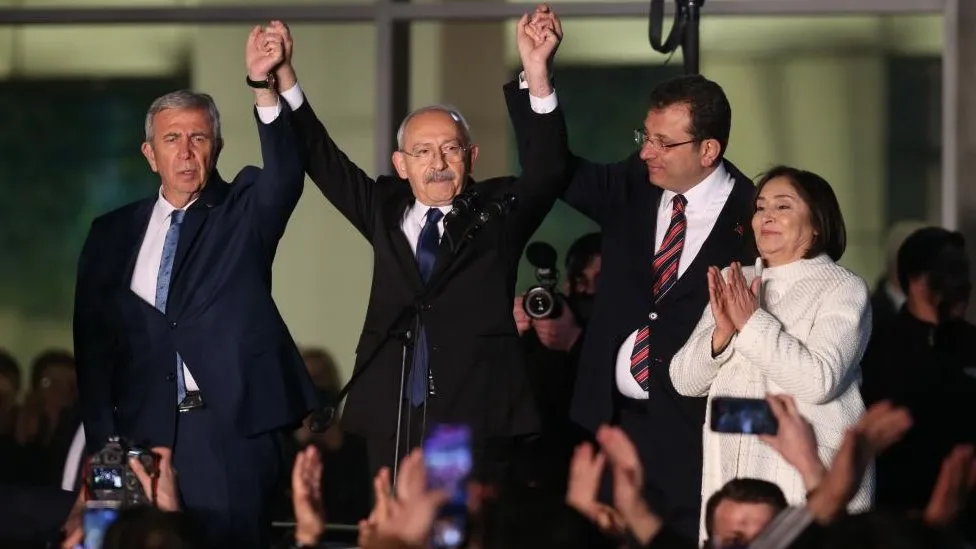 The CHP charts its origins back to Turkey's modern secular founder Kemal Ataturk.
It was long considered close to the military, which has overthrown the government four times since 1960, and was always seen as a hardline party on the issue of dividing church and state. After the military coup in 1980, for example, it supported the ban on headscarves at schools and public services.
Born in December 1948, Kemal Kilicdaroglu was the fourth of seven children brought up by a housewife and civil servant in the eastern city of Tunceli. He comes from an Alevi family – a distinct Islamic sect, and religious minority in mostly-Sunni Turkey.
He was a star student at the many schools he attended as his family following his father's job around Turkey and later studied economics at Ankara University.
He spent years as a civil servant in Turkey's financial bodies and won a reputation for weeding out corruption as director of the overarching Social Security Institution.
After seven years in parliament, he was selected to run for one of Turkey's most powerful and prestigious roles, the mayor of Istanbul. Although he lost the race, he won praise for his campaign and became a very credible runner-up for the CHP with 37% of the vote.
Within a year of that success, the leader of the CHP resigned after a secret video tape emerged of an affair – and Mr Kilicdaroglu unexpectedly found himself as prime candidate for the job.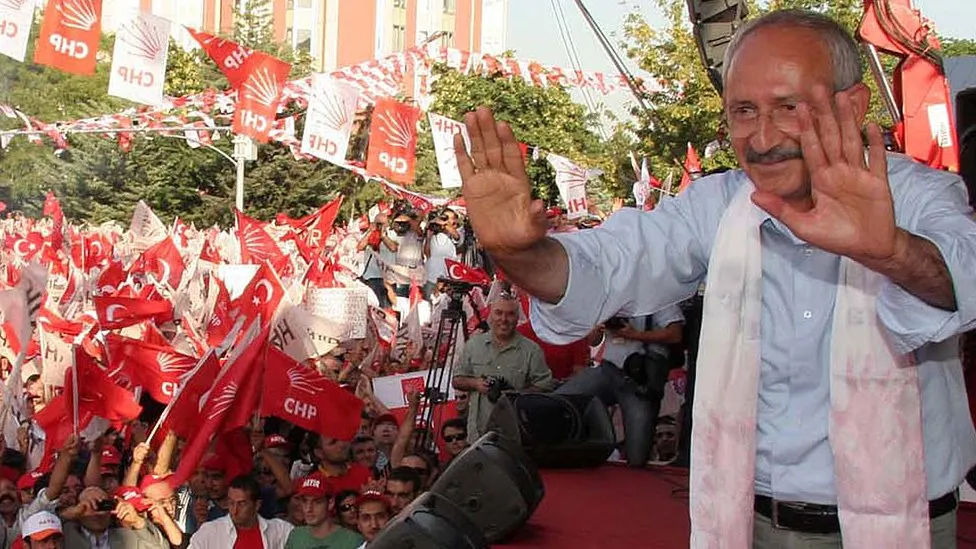 Initially he refused to run for the leadership, not wishing to take advantage of a scandal. But his stance softened and he won the race by a landslide.
Recep Tayyip Erdogan was by now at the peak of his power, becoming Turkey's most successful modern-era prime minister by winning almost half the vote for his Justice and Development or AK Party in 2011 elections.
The CHP came a distant second, but increased its vote by five percentage points. Its leader has since struggled to go beyond winning a quarter of the vote, engulfed in party politics.
But in his 13 years in charge he has led a quiet revolution within the party. He has tried to make peace with the Islamists through gestures like attending Iftar dinners to break the fast during Ramadan, and has erased the party's old militaristic codes.
"When I first met him, I thought that he was not a revolutionary leader but an evolutionary one," said former party colleague Melda Onur.
"He locks on to his target, sticks to it with incredible serenity, and by the end you're convinced. He is very decisive when he thinks that is the right thing to do."
That is why she believes it took him 13 years to reshape his party and secure its backing to run for the presidency.
True to his background, he has also maintained strict financial discipline. "He is very careful about not spending any extra for anything unnecessary," said close associate Okan Konuralp.
In time he introduced religious figures, Kurdish activists and women's rights activists to the party – to prove to Turkish society that the CHP has changed.
"The CHP has a very male dominant structure, he couldn't pull down that wall completely but he likes to work with women," said Ms Onur.
One party colleague told the BBC he never raised his voice.
"Sometimes things drive us crazy and we cannot help but scream. Even then, Kilicdaroglu keeps his calm," he said.
The moment anyone enters the room, he stands up and shakes hands, never talks to people sitting behind the desk, and never interrupts anyone, his colleague said.
This soft-spoken nature coupled with a passing physical resemblance to the former Indian leader have even given rise to his nickname Gandhi Kemal.
As has his peaceful response to physical attack.
He was punched twice by a visitor in parliament in 2014 while about to give a speech to his party's MPs. Despite suffering a bruised cheek and eye, he called on colleagues to keep calm: "The path to democracy is full of obstacles."
In 2016, his convoy was attacked by a missile by the Kurdish militant group the PKK and then the following year he escaped an attempted bombing by the militant Islamic State group.
He survived an attempted lynching in 2019 at a soldier's funeral. As he came under attack he was taken to a nearby house where a woman urged the crowd to burn it down.
When police ushered him to safety he said afterwards: "These attempts cannot stop us."
But it was after the failed 2016 coup that Kemal Kilicdaroglu's reputation spread beyond Turkey.
As President Erdogan cracked down on dissent, arresting and sacking thousands of Turks seen as linked to the coup plotters, the opposition leader launched a "March for Justice", walking 450km (280 miles) from Ankara to Istanbul.
Despite the success of his march, he chose not to challenge for the presidency the following year, waiting another five years to seize his chance.
Not an obvious candidate, it took him months to convince other opposition parties to back his bid. The CHP has better speakers, and arguably higher-profile figures who won the race for mayor in Istanbul and Ankara.
But with his main rival at his weakest, party colleagues believe this is their leader's moment.
He has also succeeded in uniting six opposition parties – which otherwise have little in common – behind him.
"I have never heard a word of hatred from his mouth. He could be angry with someone but keeps calm and then forgives that person easily," said Okan Konuralp.
"That's how he could work together with politicians who were strongly opposed to him in the past."
Source: BBC