The top foreign policy aide to Turkish presidential challenger Kemal Kılıçdaroğlu has told Newsweek he is hopeful that a new Turkish parliament will approve Sweden's delayed accession to NATO before alliance members meet for their next summit this summer—if President Recep Tayyip Erdogan loses next month's election.
Ünal Çeviköz told Newsweek that the six-party opposition bloc, which is headed by long-time Republican People's Party (CHP) leader Kılıçdaroğlu, is "optimistic" on Sweden's proposed accession, which has been stuck in limbo for several months amid heated disputes between Stockholm and Erdogan.
Kılıçdaroğlu is running slightly ahead of Erdogan in public opinion polls ahead of the May 14 election, raising the possibility that the latter's 20 years in power might soon come to an end.
Kılıçdaroğlu has said he plans to revitalize Turkish relations with NATO allies and European Union partners which have suffered under Erdogan, who critics say has increasingly turned to authoritarianism tinged by Islamist populism to retain power.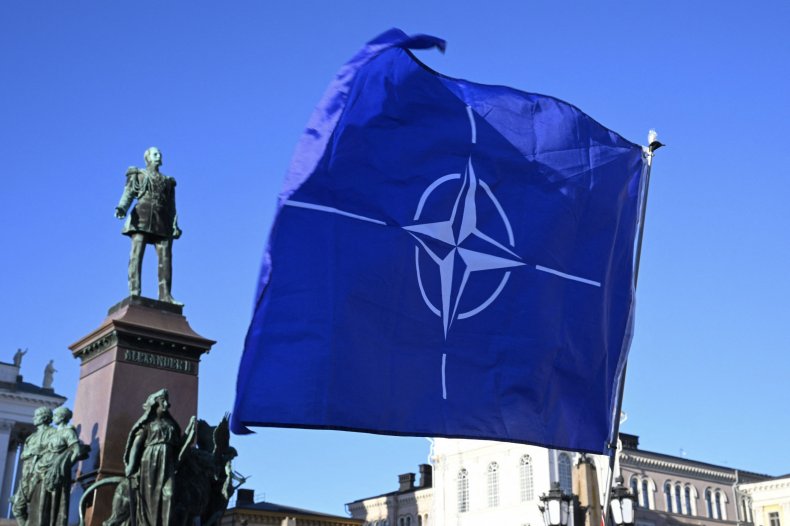 "I hope it will be realized before the NATO summit in Vilnius, but it might fall a little bit short," Çeviköz said of Sweden's proposed accession to the alliance.
"It simply depends upon the post-electoral period, the functioning of the parliament, the formation of the new government."
Swedish Saga
Any new government and new parliament are expected to be in place by mid-June, around a month before the NATO summit in the Lithuanian capital. With Finland already having joined in April, NATO members are hopeful that the July 11-12 meeting will serve as a formal celebration of the alliance's expansion to 32 members, including Sweden.
Turkey is still refusing to approve Sweden's bid, and is demanding Stockholm crack down on the activities of Kurdish political and militant groups operating within its territory. Sweden has long been a center for exiled Kurdish activists, and a fundraising hub for Kurdish groups fighting in Syria and elsewhere.
Some of those groups are linked to the Kurdistan Workers' Party (PKK), which has waged a decades-long guerrilla campaign in Turkey. The U.S. and EU both list the PKK as a terrorist organization.
Sweden has already passed new legislation to clamp down on militant organizations. It also lifted a 2019 arms embargo on Turkey put in place after Ankara's incursion into Syria targeting the Syrian Kurdish People's Defense Units (YPG), a militia that is linked to the PKK and forms the core of the Syrian Democratic Forces (SDF) which has fought alongside American troops against Islamic State militants.
But this was not enough for Erdogan, who also demanded extradition of Kurdish terror suspects and those accused of links to the failed 2016 Turkish coup, which Ankara blames on U.S.-based preacher Fethullah Gülen. More than 300,000 people have been arrested in Turkey since 2016 for suspected ties with Gülen.
The standoff has toxified public opinion in both countries. Turks were especially outraged in January when a far-right Danish activist burned a Koran in front of the Turkish embassy in Stockholm.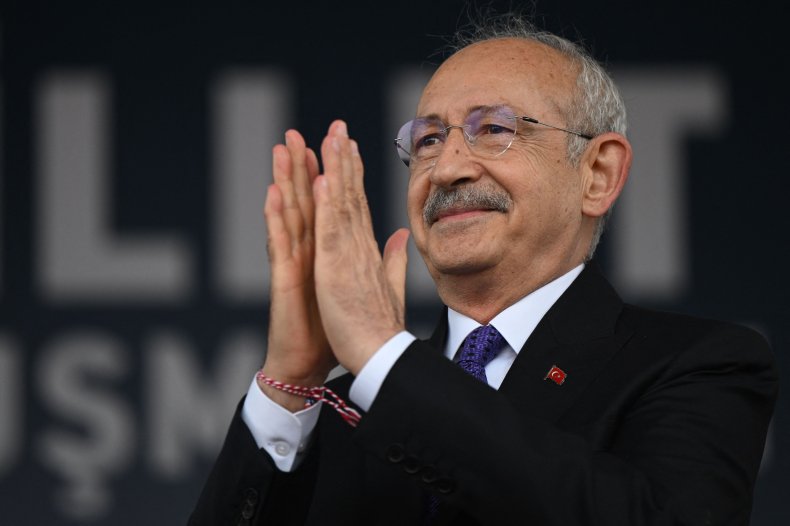 Sweden is now waiting for further anti-terror legislation to come into force on June 1. A Turkish government source told the Daily Sabah this week that the bill would not guarantee an end to Ankara's opposition.
Çeviköz, though, told Newsweek that a new government led by Kılıçdaroğlu would look kindly at the new law.
"We are reassured by Swedish counterparts that the introduction of that new law will, in a way, appease the expectations of Turkey as far as Sweden's combat against terrorism is concerned," he said.
"This law will enable Sweden to pay tribute to the sensitivities of Turkey as far as the PKK terrorist issues are concerned. Once this happens, it will be a process which will remove all the basic hurdles in front of Swedish membership in NATO. And it will allow the next government to look in a better and an optimistic manner on their membership of NATO."
The Russia Problem
Çeviköz said that a Kılıçdaroğlu-led government will generally look to build foreign "trust and confidence" in Turkey, which under Erdogan has often been a source of intra-NATO tensions and disputes with the EU.
He said a new government would continue Turkish efforts to mediate between Ukraine and Russia in the ongoing war, and maintain Ankara's role in overseeing the Black Sea grain export deal.
"To find an overall development for peace between Russia and Ukraine, it's a matter of European security architecture and it is not only Turkey," Çeviköz said.
Though a NATO member, Turkey has somewhat straddled the growing gulf between Moscow and its EU-NATO adversaries. Turkey is heavily dependent on Russian energy—state-owned Gazprom provided some 45 percent of all Turkish domestic gas demand in 2021—and Russia is, in the words of the Turkish Foreign Ministry, "one of the most important trade partners."
Amid the Western sanctions offensive on Moscow, Turkey has seen its trade with Russia increase by 87 percent.
Though he said a new government would not mirror EU sanctions against Russia, Çeviköz did say that a Kılıçdaroğlu-led administration would adopt more intense scrutiny of Turkish firms accused of helping Russia bypass the measures and source dual-use goods.
"We are also trying to take the necessary measures not to allow this to happen," he said. "We will be certainly looking at it more carefully."
Çeviköz said an opposition-led Turkey would look to "to diversify and to diminish the dependence on a certain source" when it comes to energy.
Still, Çeviköz said Turkey will not be off-limits to Russian President Vladimir Putin. "If a presidential visit is considered from either party to the other, then we will certainly be looking at it," he said.
The recent International Criminal Court arrest warrant for Putin, he added, is not relevant to Turkey as the country is not a party to the agreement. "There is not anything to be discussed on that level," he said.
'Trust' in Turkey
Çeviköz said the combined opposition is "quite confident" of success in the looming elections. But what if Erdogan wins again? "We don't consider this as a possibility," Çeviköz replied.
"The paradigm, not only in Turkey, but overall in the world is the confrontation between democratic forces and authoritarianism," he said. "Turkey is going to prove that the authoritarian tendencies could be defeated by a democratic and free elections […] Democracy will prevail. And if it doesn't, then it will be a dark hole in the region."
A Kılıçdaroğlu-led administration, Çeviköz said, will be looking to make peace with those so often rankled by Erdogan's foreign policy over the past two decades, starting with historic rival Greece. Athens and Ankara have been involved in multiple territorial disputes in the eastern Mediterranean, with huge reserves of undersea oil and natural gas at stake.
Turkish and Greek vessels have clashed at sea, and Erdogan even warned in December that Turkish missiles can reach Athens.
"One of the priorities will be certainly in relations between Turkey and Greece," Çeviköz said, suggesting a recent thaw in ties following the February earthquake that devastated parts of eastern Turkey and northern Syria gives some hope for improved bilateral ties. "I think there is a very optimistic opportunity there," he said.
Long-term, Çeviköz said the Turkish opposition also has an eye on renewed EU accession talks, which have been frozen since 2018 amid democratic backsliding under Erdogan.
"It is a very long-term process," Çeviköz said of Ankara's EU ambitions. "First, we have to create the trust and confidence of Turkey, with the international community […] Once this happens, certainly further developments and progress will follow."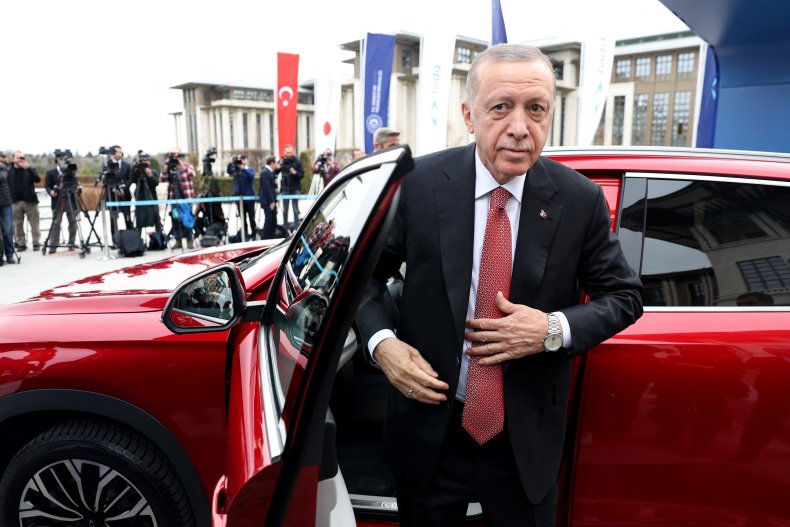 Turkey under Kılıçdaroğlu will also be looking to revive ties with neighboring Syria, whose dictatorial leader Bashar al-Assad has—with extensive Russian and Iranian help—all but won the brutal civil war against a variety of domestic and foreign-backed rebel groups.
Turkey occupies a swath of northern Syria it says is required to protect the southern Turkish border, but Çeviköz said an opposition administration would be willing to re-evaluate its military presence there if there is a détente with Damascus. The return of some four million Syrian refugees now living in Turkey is a top priority across party lines.
"It is the intention of the next government to incentivize the voluntary return of Syrians," Çeviköz said. "Dialogue is absolutely necessary between Ankara and Damascus."
The EU and U.S. are still cold on Assad, refusing to re-establish ties after more than a decade of trying to oust the dictator. "I don't think that it's going to damage the Turkish relations with the U.S." Çeviköz said of a potential thaw between Ankara and Damascus.
"If we can achieve that kind of reassurance and confidence between the two countries, certainly, there will be a time when there will not be a necessity for reassuring Turkey's security by presence of Turkish armed forces in the Syrian territory," he added.
Source: News Week